Email/Text Notifications
Jul 29, 2020
264
Email and text notifications appear in several places/scenarios in our software. Certain ones can be modified more than others, including setting who receives them, when they receive them, what format should be used (email vs. text vs. both), etc.

---
Throughout the request process (submission and approval/rejection), notifications can be set up to go to supervisors and officers alike. Assuming you have these enabled, they will be automatically send to the appropriate users anytime a "milestone" is achieved. These milestones are as follows.

A request is submitted




Supervisors and Admins that have this person as a subordinate in one or more Supervisor Rules will receive a notification that has all the details of the request.




A request is approved/rejected




The officer(s) in question will receive a notification, indicating the decision (approved/rejected).




Supervisors and Admins that have this person as a subordinate in one or more Supervisor Rules will receive a notification that tells them what was approved/rejected, so that everyone is kept in the loop when subordinates are shared by several supervisors/admins.



---
The format used for notification is configurable for the department as a whole. They can not be configured on a user-by-user basis at this time.

There are currently 4 formatting options to choose from...

None (i.e. do not send notifications for this item type)

Email

Text

Email & Text
These options can be configured uniquely for the following items...

Shift Release Request

Shift Claim & Additional Time Request

Shift Cover Request

Shift Trade Request

Time Off Request

Special Assignments & Beat Request

Overtime Request

Holdover Request

Modify Request (e.g. your request for OT was already approved, but you want to change it from being "earned as pay" to being "earned as comp")

Rescind Request (e.g. your vacation request was already approved, but you decided later to work it instead, and now need to remove that vacation)
NOTE: These formats and configurations must be done by your Pace Representative.
---
There are two checkboxes you need-be concerned with when setting up supervisor rules if you you want to receive notifications when your subordinates submit requests. Please note that email/text notifications must be enabled on your site for these settings to apply.

Targeted Request Notifications


Supervisors in this rule will only receive notifications (email/text) if their name is chosen by the requesting subordinate on request forms. Subordinates can select one, multiple, or all of their supervisors.




This selection only affects notifications (email/text), not the request itself, therefore all supervisors with request approval permissions over that subordinate will still see, and be able to handle, the request in their Pending Requests queue




Guaranteed Request Notifications




If a subordinate does not select any supervisors when submitting a request, ALL supervisors in this rule will be notified (email/text) instead.




Similarly, if Targeted Request Notifications are disabled, ALL supervisors in this rule will be notified (email/text) every time a subordinate submits a request.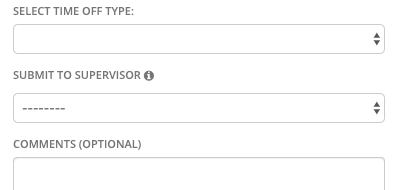 Admins
Even though Admins receive and can approve/reject pending requests for anyone in the department, they will only receive notifications if a supervisor rule exists for them, and one or both of the notification checkboxes (mentioned above) is checked.
Supervisors
Who you receive notifications for and when is determined by the supervisor rule(s) that you are a part of. Keeping in mind the info explained above (primarily that checkboxes), please see our explanation of Supervisor Rules to gain a better grasp on this process.
Basic Users
Basic Users only receive notifications when one of their requests gets approved/rejected. If their particular request requires multiple approvals, they will receive a notification each time an approval/rejection occurs.

---
These are automated notifications that are send at a specified time each day. They indicate how many pending requests you currently have that still need to be addressed.

These automated reminders can be turned on/off on a department-wide basis.



You can specify which hour these should be sent. Whichever hour you select, they are sent on the hour (e.g. 2:00am, 4:00pm, 11:00pm, etc.), not on the partial hour (e.g. 2:15am, 4:23pm, 11:59pm, etc.).


If and when these are sent are currently settings you will need your Pace Representative to change for you.



---
These are covered in much more depth in the Extra Shifts/Message Blasts Tutorial, but we wanted to note them here as well, as they are another method by which emails & texts can be sent to users in the department.